Rejuvenate Your Skin with Revelations RX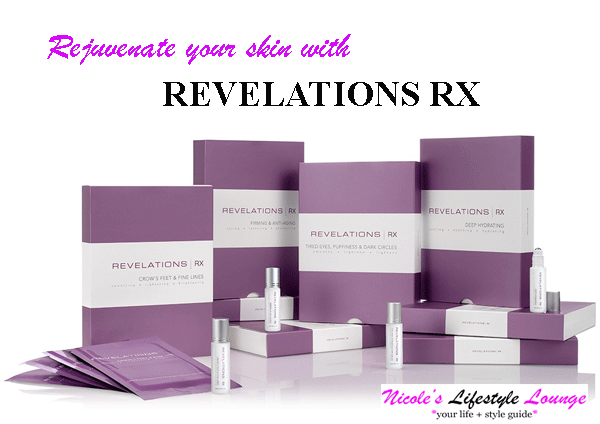 This post is sponsored by RevelationsRX, but all opinions expressed here are my own!
I have been pretty busy planning sweet 16s and weddings, so I haven't had much "me time" and it  was starting to show in my face. So here I was - a new year and penning #StepIntoYourPower articles the night before a pretty big event and my face longed for some much needed perking up. But then I quickly remembered the RevelationsRX products I received earlier in the week. RevelationsRX is a diverse team of experts who over six years have been leveraging proven wound healing science to create a collection of more effective skin therapy serums. In addition to the products being made from natural, non-animal derived or tested ingredients and scientifically proven to deliver the best results, their packaging is pretty impressive as well. I received the Deep Hydrating and Tired Eyes, Puffiness & Dark Circles with a bonus Anytime Rollers which are formulated to heal the skin from within; something I was about to put to the test as my acne prone skin was pretty inflamed.
[Tweet "@RevelationsRX, skin therapy that heals skin from within. Try #free sample http://ooh.li/9e3800a  "]
The first of the product I tried was the Face Mask Solution which included four Biocellulose Facial Masks infused with deep hydrating serum, plus a bonus Everyday Roller. The active ingredients being Aloe Vera, Argireline, Glycerin, and Hyaluronic Acid. I cleansed my face, applied one of the RevelationsRX face mask, and left in place for 45 minutes for optimal results as per instructions, while I completed my event timeline. I removed mask [without rinsing], and to my surprise there was a noticeable change to my skin. When I woke up the morning, I washed my face then applied Anytime Roller to affected areas before applying my makeup.
With such awesome results after just one use, I was psyched to try the Eye Mask Solution. The contents of this package included four Biocellulose Eye Mask sets infused with tired eyes, puffiness and dark circles serum plus a bonus Everyday Roller. The eye mass is clinically proven to aide the healing of the skin around the eyes by smoothing, tightening and lightening. So I proceeded as instructed, cleansed face then applied the eye mask underneath the eye. After 45 minutes I removed eye mask and va-va-voom! Noticeably improved results. The active ingredients are Retinyl Palmitate (VitaminA), Caffeine, Camellia Oleifera, DMAE and Antioxidants.
Now on my second face mask and using the roller on the affected areas daily, my skin is much smoother, brighter and no longer inflamed. These clinically proven products are perfect for pretty much adults of all ages [male or female], can be used with any skin regimen, and ingredients are chosen based on the history of lack of allergenic response. The RevelationsRX line of products are also gluten-free, with each product retailing on their site for $75.
To try out RevelationsRX yourself, I invite you to visit the RevelationsRX website, where you can purchase the products and receive a 10ml serum filled anytime roller with purchase. You can also order a FREE sample of the eye mask, an exclusive offer for my audience. In addition, you can try the facial mask as a sample that is available to the public.
What are your skin woes?
The free samples of the RevelationsRX eye masks were a huge hit, and due to the limited quantity the stock has run out! The brand will still be offering you an exclusive deal - you can receive $15 off each item in your first purchase + a free trial of the complementary mask (retail value of $15).  Example: buy an Anti-aging face mask, get $15 off and a free Crow's feet eye mask set.