Creating the Perfect Save the Date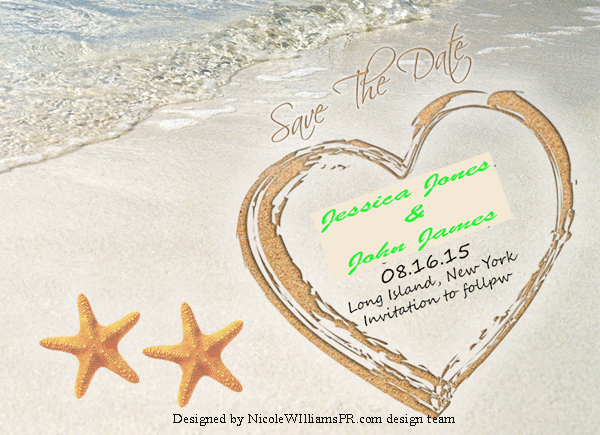 If you're engaged and or getting married you're probably wondering if you should bother to send a save-the-date or just proceed with the invitation. So let's first of all cover why we send a save the date. Save the Date is a way to announce your engagement and your intended wedding date. To alert and inform your potential guests, especially if the wedding will be planned during a holiday or peak travel time, and also if it will be a destination wedding. Your save the date can be very simple and personal, elegant and formal, fun and even feature your photo. The save the date design you choose should showcase your personality and or personal style.
If you've ever been invited to a weddings, you may have noticed a variety of different styles and designs used to announce the special occasion to friends and family. You can opt for a pre-designed template then personalize with your own information… Or you can do what I did for a couple whose wedding I am currently planning, and just design the save the date from scratch.
[Tweet "Your save the date like the wedding should be an expression of your unique style- @labelsbynicole"]
Your save the date like the wedding should be an expression of your unique style, so with Barbeth and Asly's save the date we combined the wedding theme (South Beach), wedding colors (turquoise and fuchsia) and blend it all together with their individual likes to capture the final product.
When working with my wedding clients, we usually first determine whether or not a save the date is required. Once the venue is booked and the determination is made, the next thing is to figure out the number of save the date you need based on the number of household. When preparing your save the dates, be sure you use full names, include the wedding date, as well as the city and date of the wedding venue.