5 Thought Leaders I Follow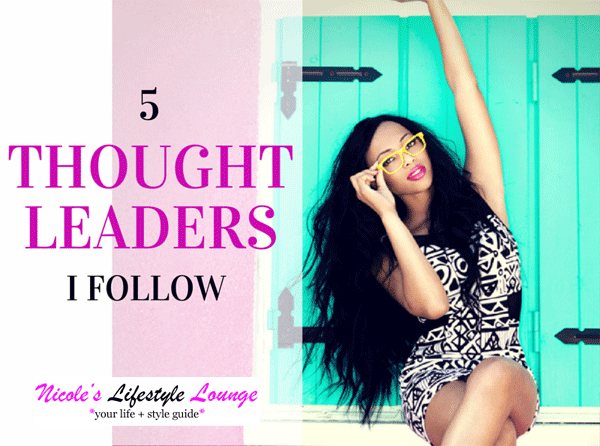 Due to the predicted snow storm, like many of you I snuggled up in bed, drinking hot chocolate, and watching Criminal Minds. But the best thing about days like today is that I get to also catch up on MICE (my independent continuing education). As I work on building my dream life and career, there are 5 thought leaders that I follow. I admire them because they are ROCK STARS at what they do... and even though I don't know them all personally I access and learn from them through their blogs, websites, books, social media profiles and interviews.Whether it's in my journal or Evernote app, I document key notes and tips from these experts so I can use the information to design my own personalized plan to achieve and reach my goals.
Though this is a boiled down list, I'm excited to share with you the 5 thought leaders I follow, and that you should be following too. Through their platforms you will learn strategies to help you plan and accomplish your goals - bringing you closer to living the life you want.
Power Up with these 5 thought leaders I follow
AR Bernard - he is my spiritual leader and founder of Christian Cultural Center (CCC), a life coach and civil rights advocate who believes and teaches that "the quality of your thinking determines the quality of your life." Visit the CCC Internet Campus and start learning how to design a life and not just earn a living.
Danielle LaPorte - she is a best-selling author, motivational speaker and founder of  the #DesireMap. Danielle helps individuals manifest and chart their dreams by aligning themselves with theirr hearts' desire. Get started with the  #Desire Map with the Fire Starter Sessions, the permission slip you've been waiting for.
Steve Harvey - he is a comedian, actor, radio personality, best-selling author, and talk show host. Steve believes that dreaming is more important than anything and he is on a mission of empowering, educating, inspiring and motivating those who wants more to create success in every area of your life. Get a copy of  his #ActLikeASuccess Book and gain the mindset to climb your ladder of success.
[Tweet "The quality of your thinking determines the quality of your life. -@arbernard @labelsbynicole"]
Marie Forleo - she is the charismatic business strategist, marketing maven, founder of Marie TV and B-School. If you are like me and don't fit into a conventional box, then this multi-passionate entrepreneur should be on your list of thought leaders. Unlock your full potential with her "Make Every Man Want You" book. And no, it is not about relationships.
TD Jakes - he is a best-selling author, producer and leader of the Potter's House. He is also the founder of the MegaFest Conference which brings together the best of T.D. Jakes Ministries events including Manpower, Woman Thou Art Loosed, MegaKidz and the Mega-Youth Experience. Click here to get some instant inspiration.
One key tip I learned from TD Jakes, is to always friend up! Because to get to the the next level, you will need a sponsor that is already their who relates to you... People cannot teach you what they have not done. So if you have not already identified any thought leaders of you own, feel free to adopt the 5 thought leaders I follow above.
Who are the thought leaders that you follow?
Affiliate links are included and may yield a commission if you make a purchase.