How To: Makeup Crash Course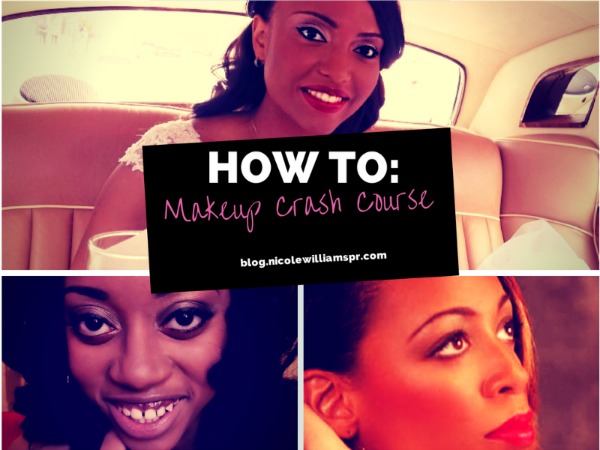 As a makeup artist I come across many women who do not wear makeup, not because it's a choice but more because they do not know how to apply. So if you are one of the many, today I am bringing you a makeup crash course that will have you looking flawless and effortlessly beautiful.
Under Cover
The key factor for great coverage is lightweight; avoid heavily formulated foundations or concealers.Think sheer and natural (L'Oreal Infallible Never Fail Makeup or MAC Select Cover-Up). In some cases, you may just need a tinted moisturizer (Sephora's Tinted Moisturizer with SPF 15) instead of foundation. Use a cotton swab to apply concealer (Vera Moore Concealer Plus) to cover up zits, acne, redness or blemishes that are still visible.  Leave to dry then add more if needed. Brush a light deposit of translucent powder over face to set foundation, removing excess powder before hand.
Eye Y'all
To create a smooth base, prevent creasing and help eye shadow adhere, apply some primer (Motives Perfecting Eye Primer) over eyelids.  Apply shadow from lashes to crease; subtle colors works for day and darker colors for evening. Don't be afraid to use bold colors on your eyes - they make for an exotic look.  Apply eyeliner (CoverGirl Perfect Blend Eye Pencil), and use a sharp brow pencil (Clinique Superfine Liner for Brows) or  a dark brown powder (Vera Moore Brow Kit) to fill in brows.
Flushed Cheeks
Choose a blush that compliments your skin tone. You can go for a cheek tint, stain, or cream to powder blush - they work best on bare skin, last longer but dry quicker.  Blend blush into the apples of the cheek then brush with translucent powder for a matted finish and longevity.
Kissable Lips
First of all cracked lips are not sexy, so exfoliate your pouts regularly to remove rough skin and treat with a lip conditioner or revitalizer. Lip conditioners and stains make for an excellent base for lipstick. Use a neutral lip pencil to line the natural lines of the lips when wearing neutral lipcolors. Apply lipstick with a lip brush or fingers for a matted finish. Lip gloss makes for extra sexy pouts on top of lipstick or on nude lips.
P.S.
Finish face with a light brush of powder (making sure to rid brush of excess before applying); work the brush into shine prone areas, as well as the fold of the nose. If you are shine prone use an oil matifier (Mary Kay Oil Matifyer) in place of moisturizer or under makeup. This will help keep you shine free.  Use  blotting paper (Oil-absorbing Blotting Tissues) to absorb t-zone oil.
Never sleep in your makeup. First remove excess makeup with a makeup remover (Oil of Olay Makeup Removing Cloths) or Vaseline before proceeding with your cleansing process.
If you follow these tips you should do just great on your own and on your way to perfecting beautiful and lasting makeup.
Be sure to share using the social media buttons and leave a comment below.