Influenster Spring Fever Voxbox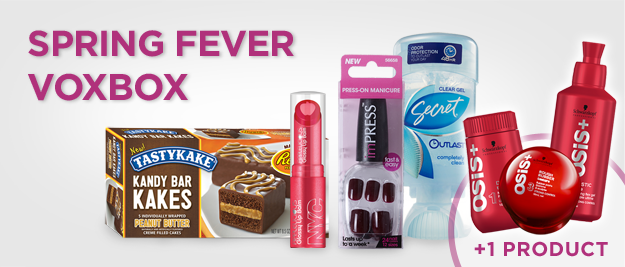 I received a couple weeks ago from Influenster their Spring Fever Voxbox filled with complimentary products for sampling. Continue reading to find out what products were in the box and my thoughts on them.
It is a great styling product that separates and defines hair. It has a rubber like consistency that is applied by rubbing a small amount in the palms of your hand then raking fingers through hair and left to air dry.
A lightweight lip balm formulated with Shea Butter, Jojobba Oil, Avocado Oil and Vitamin E. It keeps your lips looking healthy, soft and kissable with a touch of color. The lip balm had a fruity smell (as per the name applelicious), something I think my teen daughter's age group would find more appealing.
This gives 48 hour odor and wetness protection, while out performing its competitors leaving less white marks on your clothing. I had my teen daughter try this product and I must say I was impressed with how little white marks were left on her school shirt. My daughter was not a fan of the gel, she said she would like it better in a solid.
Light and fluffy chocolate cakes with a creme filling packaged like regular candy bars.
I'm not a cake person due to my egg allergy so I had my husband try it; he thought it made for a great light treat. Available

flavors are S'mores, Peppermint, and Peanut Butter.
Broadway Nails imPRESS Press-on Manicure ($5.99-$7.99)
This works for the ease of getting a salon-perfect manicure in seconds. Nail technology that is simple - peel off, press on, and done! Manicure should last for up to a week! I haven't actually applied them yet, but I promise to post a review once I do.
Have you tried any of these products? If so what were your experiences?
Image source influenster.com